On December 23, 2020, the Ministry of Information and Communications in coordination with the Vietnam Chamber of Commerce and Industry (VCCI) has announced and honored the winners of the Make in Viet Nam 2020 Award.
At the awards ceremony, OneATSTM Platform Solution of Applied Technical Systems Joint Stock Company (ATS JSC) was honored to be named First Prize Winner in Excellent Digital Solution category. The Second and Third Prizes of this category were respectively awarded to AI-Assistant Doctor DrAid and Viettel OCR.
OneATSTM is the first and only digital solution in Vietnam to be successfully researched, developed and applied in the field of control, automation and analysis of industrial data, especially in the energy sector… System solutions based on this platform include @Station®, @SCADA+®, @OCCTM, etc…. which have been widely applied in critical infrastructure systems such as HV substations and National Load dispatch centers, in Vietnam and Japan.
OneATSTM is a highly flexible solution suitable for businesses of various scale, operable on multiple platforms and can easily be integrated with systems and hardware from various vendors. This platform can help domestic companies reduce operating costs while enhancing productivity, security and autonomy. With this product, ATS aims in the future is to apply AI and Big Data in further development of Smart Grid Smart power system in Vietnam and international markets.
The Make In Vietnam Award 2020 – the first Vietnam award honoring digital technology products designed and developed by Vietnamese people and enterprises – is an affirmation of ATS's technical capability while also is the driving force for ATS to continue our innovation effort in solving clients' and societal problems in the years to come.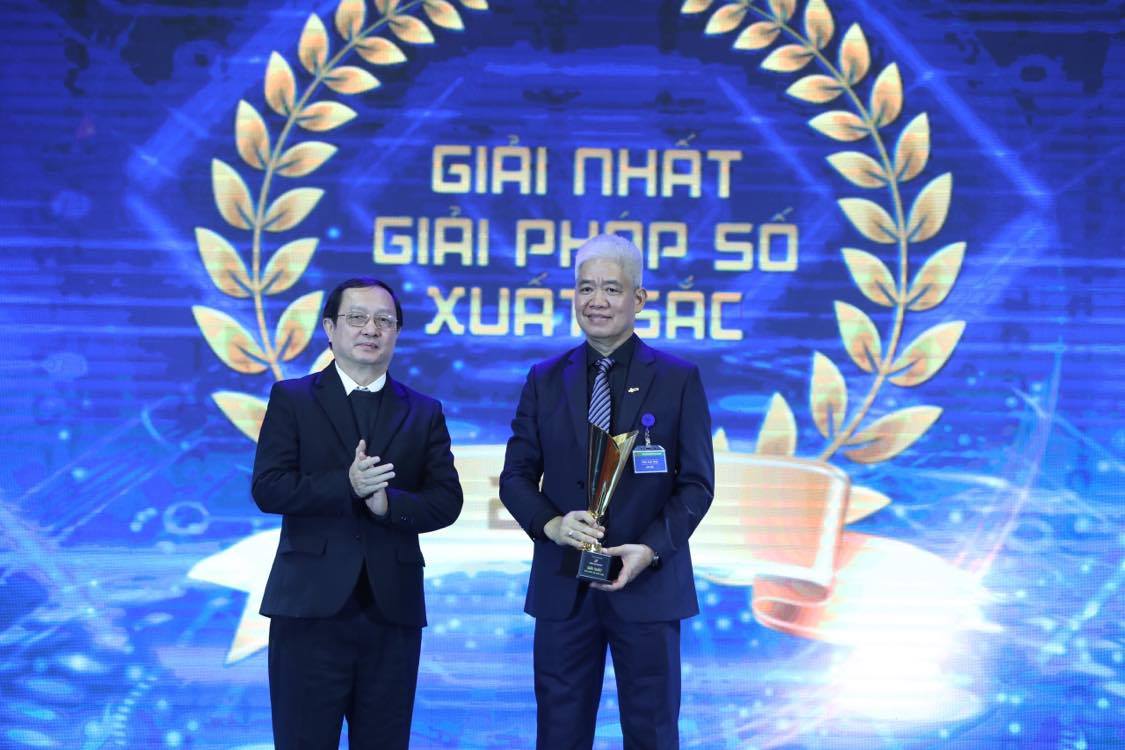 The Minister of Vietnam Ministry of Science and Technology Huynh Thanh Dat presented the Excellent Digital Solution Award to ATS's Vice General Director of Technology – Mr. Tran Anh Thai
Make in Viet Nam 2020 is an official award to honor digital products and solutions of Vietnamese digital technology enterprises that showcase excellent design and creativity of the Vietnamese and which solve Vietnamese problems. The awarded is organized by the Ministry of Information and Communications and the Vietnam Chamber of Commerce and Industry to recognize excellent digital products and their contribution in bettering the economy, society, and the people's lives.
Within four months of launching, the award attracted 239 entries for 5 award categories. After more than three months of rigorous review, presentation, and appraisal, the Organizing Committee has selected 50 products to be listed in the Top 10 of Make in Viet Nam Award. The 50 products in the Top 10 in each category are excellent products, solutions, and platforms, demonstrating the capabilities of Vietnamese and Vietnamese enterprises in mastering technology and manufacturing digital technology products. 03 excellent representatives for each category were selected for honor at the award ceremony on December 23; the honored products cover many fields, from AI, digital transformation to education and healthcare.
Reference: https://vnexpress.net/5-san-pham-make-in-viet-nam-xuat-sac-2020-4210437.html