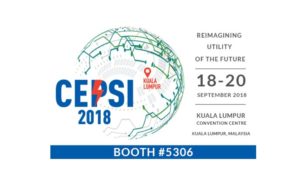 On 18-20 September 2018 at CEPSI 2018 (Kuala Lumpur Convention Centre, Kuala Lumpur, Malaysia), ATS will exhibit at Booth 5306 in the CEPSI 2018 to present our innovative products and solutions for digital transformation.
The 22th Conference of Electricity Power Supply Industry (CEPSI 2018) is one of the most prominent electricity supply industry conference in East Asia and the Western Pacific region. With this year's theme as "Reimagining Utility of the Future", more than 1,500 delegates from all over the world will take part in the event.
As a leading vendor of IEC61850-based SAS and SCADA/DMS/EMS/GIS with a rich experience on substation up to 500kV, ATS will showcase at CEPSI 2018 our most representative products and services including Substation Automation System, SCADA/DMS/EMS/GIS software, Wide-Area Monitoring System, Travelling Wave Centralized Fault Locating System, etc.
Our Solution & Product Highlights
@Station® (IEC61850-compatible Smart Substation): an Integrated Control and Protection system designed for the operation of transmission and distribution substations. The system incorporates the latest technology in the field of substation automation to provide its users with innovative solutions to their requirements.
@SCADA+® (Supervisory Control and Data Acquisition System): a comprehensive solution to supervisory control and data acquisition, managing system on a real-time basis.
Operation Control Center OCC (Power system management solution): a solution package specialized for the supervision, control, and management of power system of one or more areas/groups of power plants or manufacturing facilities that need to manage a large amount of real-time data.
SmartWAMSTM (Wide-Area Monitoring System with Synchrophasor): a wide-area monitoring system that performs the collection, processing and displaying of synchrophasor data on the basis of Phasor Measurement Unit technology to reliably and timely monitor large-scaled power systems.
SmartAFLTM (Centralized Automatic Fault Locating System): a Travelling Wave-based and Impedance-based distance-to-fault locating software package.
SmartModemTM (Modem 3G): meets the growing need for wireless data transmission over long distance with high accuracy and reliable security via GSM/GPRS/EDGE/HSPA telecommunications system. The device functions as a data server and facilitates the connection of multiple devices for construction of SCADA/DMS/AMI systems.
SmartHISTM (Historical Information System): a historical database management system allowing users to collect, process, store, manage and retrieve an extremely large data set (Big Data) from the real-time environment during both normal substation operation and in time of disturbance, suitable for high-fidelity time-series data from diverse sources etc.
Come and see us at Booth #5306 
Event link: https://www.cepsi2018kl.org